Welcome
The Oil Sands Developers Group (OSDG) is a non-profit, industry-funded association, located in Fort McMurray, Alberta, Canada.
OSDG represents oil sands operators and developers, and works in co-operation with related industries, government, Aboriginal peoples, and other organizations active in the Athabasca oil sands region to define and address regional issues related to oil sands development, and to communicate accurate, credible information about Athabasca oil sands activity.
---
Ken Chapman, Executive Director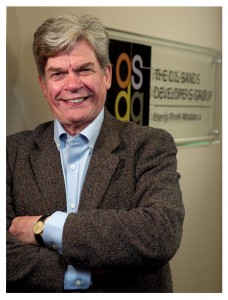 Ken is the Executive Director of the Oil Sands Developers Group.  His focus is on  helping to improve the quality of life in the Wood Buffalo region, ensuring proper environmental stewardship and responsible and sustainable oil sands development.  He works to engage directly with public policy designers and decision makers in all orders of government, local stakeholders, a wide range of industry sectors, environmentalists, scienctists, Aborginal groups and community leaders.
He was a founder of Cambridge Strategies Inc., a public policy consultancy group prior to joining the OSDG in June 2011.  As a lawyer he championed a number of key cases from legalizing midwifery to establishing French language education rights in Alberta.  He is very interested and involved in social media, citizen engagement, and deliberative decocracy issues.  He has an on-going and keen interest in the arts culture, creativity and innovation.  He is recoginized as one of Alberta Ventures 50 Most Influential People in 2010 and received the Queen's Golden Jubilee Medal for service to the community.
Some interested companies